YOU GIVE IT EVERYTHING YOU'VE GOT
You were not born to just pay your bills and die. We believe that everyone is born a Genius, but with the way the world works, it's no wonder so many individuals fail to realize their full potential…
Why would you not use every tool available to achieve your goals?
LABELS ARE
IMPORTANT
HERE'S WHAT OURS SAYS ABOUT US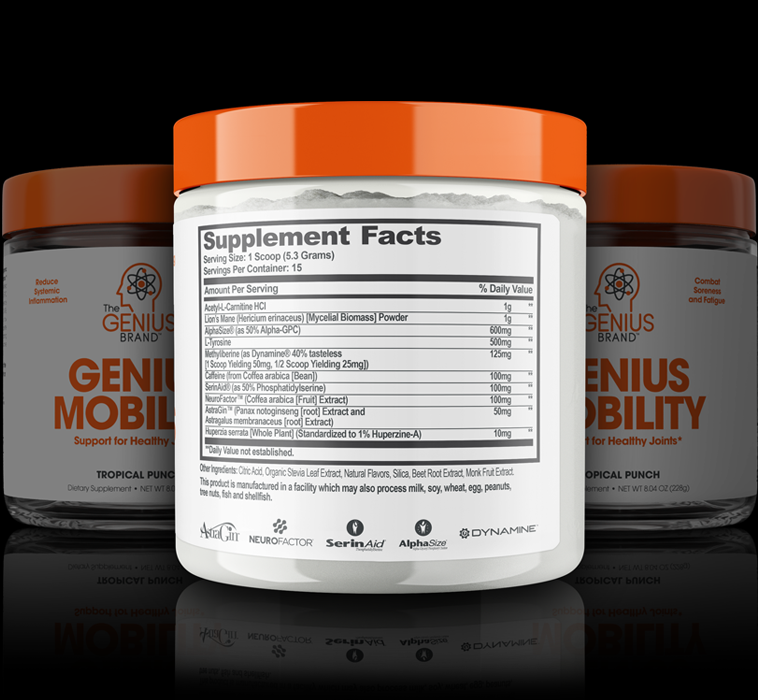 PROVEN RESULTS
100% TRANSPARENT
GENIUS ELITE QUALITY
PROVEN RESULTS
Our natural and trademarked ingredients are selected based on years of public research and study into their benefits. Combined with a balanced diet and regular exercise, Genius Brand supplements can help you achieve real, lasting results.*
100% TRANSPARENT
We are proud of our formulas. You will never see a proprietary blend listed on one of our labels that conceals ingredients or quantities. Every product is formulated, manufactured, and undergoes strict third-party testing for safety and quality here in the United States.
GENIUS ELITE QUALITY
Unmatched innovation and the highest quality ingredients form the foundation of Genius Brand products. Each formula boasts a unique team of complementary ingredients for benefits that go beyond what each individual ingredient could achieve alone.*
ALL NATURAL/NO FILLERS
Our supplements provide only the best natural ingredients, with zero added sugars, artificial dyes, fillers, fake colors, or harmful additives. Quality always comes first at The Genius Brand.
PEAK PERFORMANCE
Unlocking true human potential is our goal. Whether you seek to enhance your focus and memory, build more muscle, or just raise your overall wellness, we can help you gain an edge.* Limits exist to be broken; biohack your body to new levels of mental and physical ability with Genius Brand supplements.*
BRANDED INGREDIENTSRAISE THE BAR
We partner with many of the best companies in the United States and beyond to provide excellent branded ingredients with proven results.* Dynamine®, AstraGin™, Sensoril®, PeakO2®, NeuroFactor™, SerinAid®, AlphaSize®, and CreaPure® are just some of the many prestigious trademarked ingredients found in Genius Brand supplements.
ALL NATURAL/NO FILLERS
PEAK PERFORMANCE
BRANDED INGREDIENTS
Not all supplements are created equal. Choose a brand that puts scientific innovation and natural ingredients first. At The Genius Brand, quality, proven results, and transparency stand at the forefront of our philosophy.
GROWTH STARTS
HERE
OUR MOST POPULAR PRODUCTS
COMPANY
WE KEEP
WHAT OUR PARTNERS ARE SAYING
We sourced the matcha straight from Japan and supercharged it with lion's mane & cordyceps mushroom extract for increased energy and cognitive support/focus. It gives me the perfect little boost without the crash that coffee typically has. Thank you to @thegeniusbrand for working with me on zillions of samples to finally get it perfect.

Rachael DeVaux @RachaelsGoodEats

Registered Dietitian, Certified Personal Trainer
Aligning with companies that support the whole human is always my highest priority. I came to know Genius because of a true human interaction and connection with founder, Rob Oliver, and after seeing and trying the quality of supplements they were creating, I knew this was a company I wanted to be associated with. It's about what brings us together as humans to enhance our own connection and the connection to others and Genius Brand is doing just that.

Dr. Jen Fabroni

Doctor of Physical Therapy