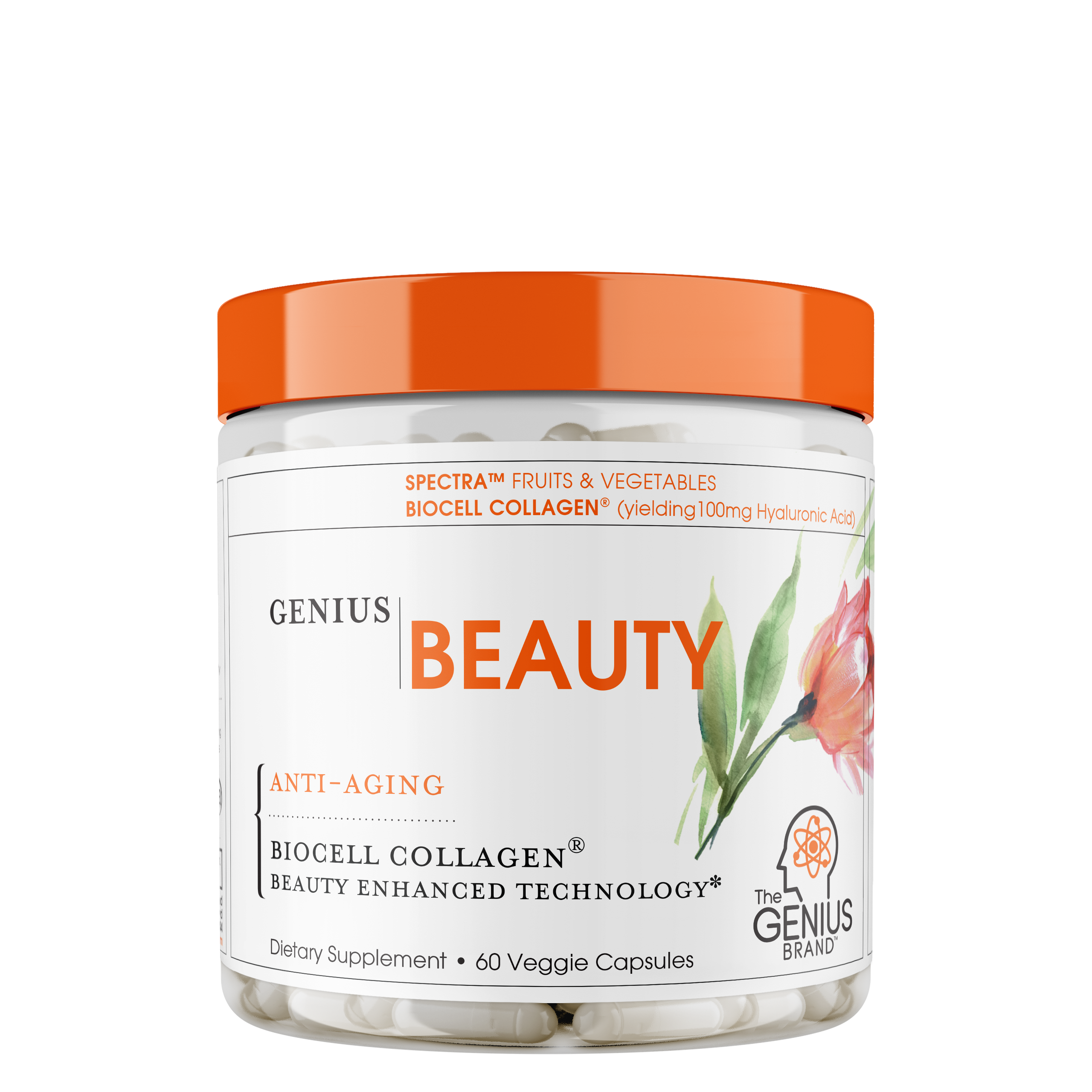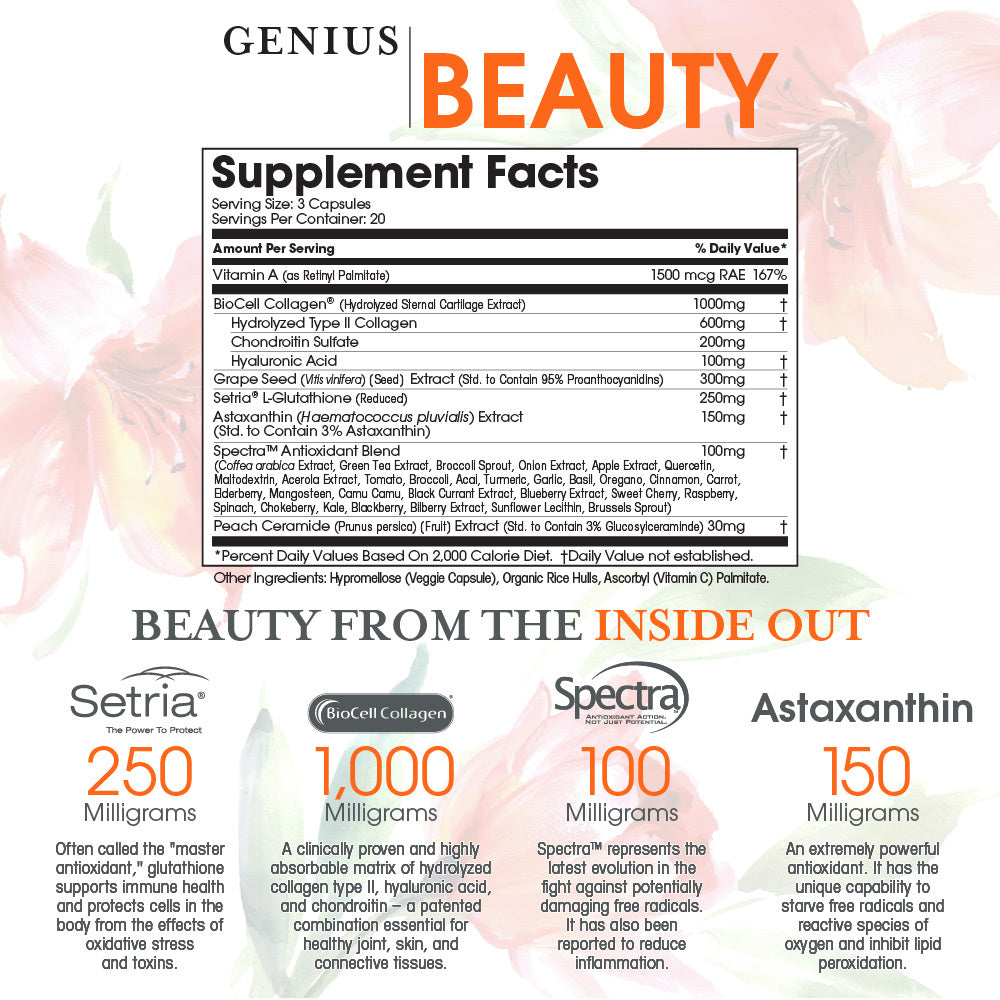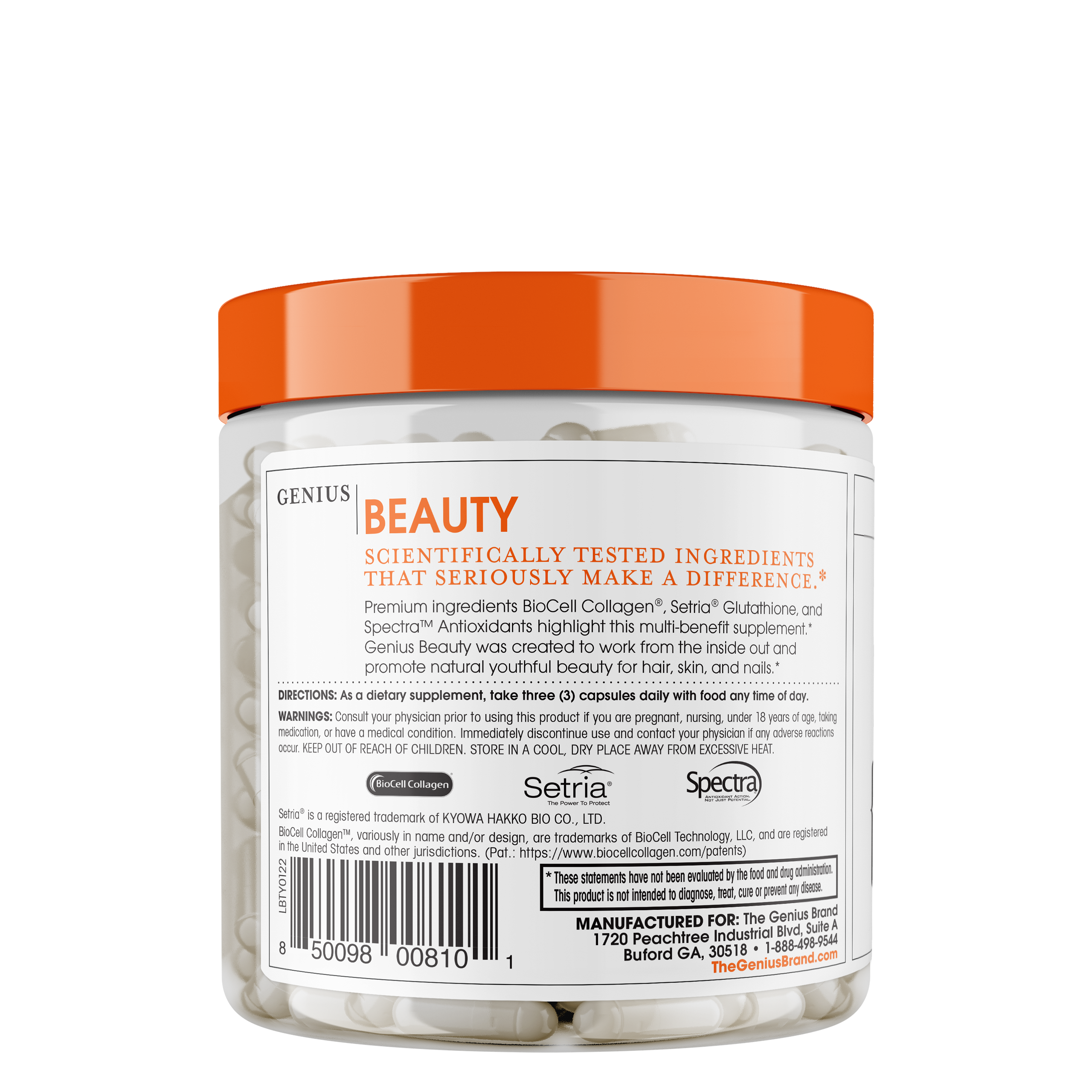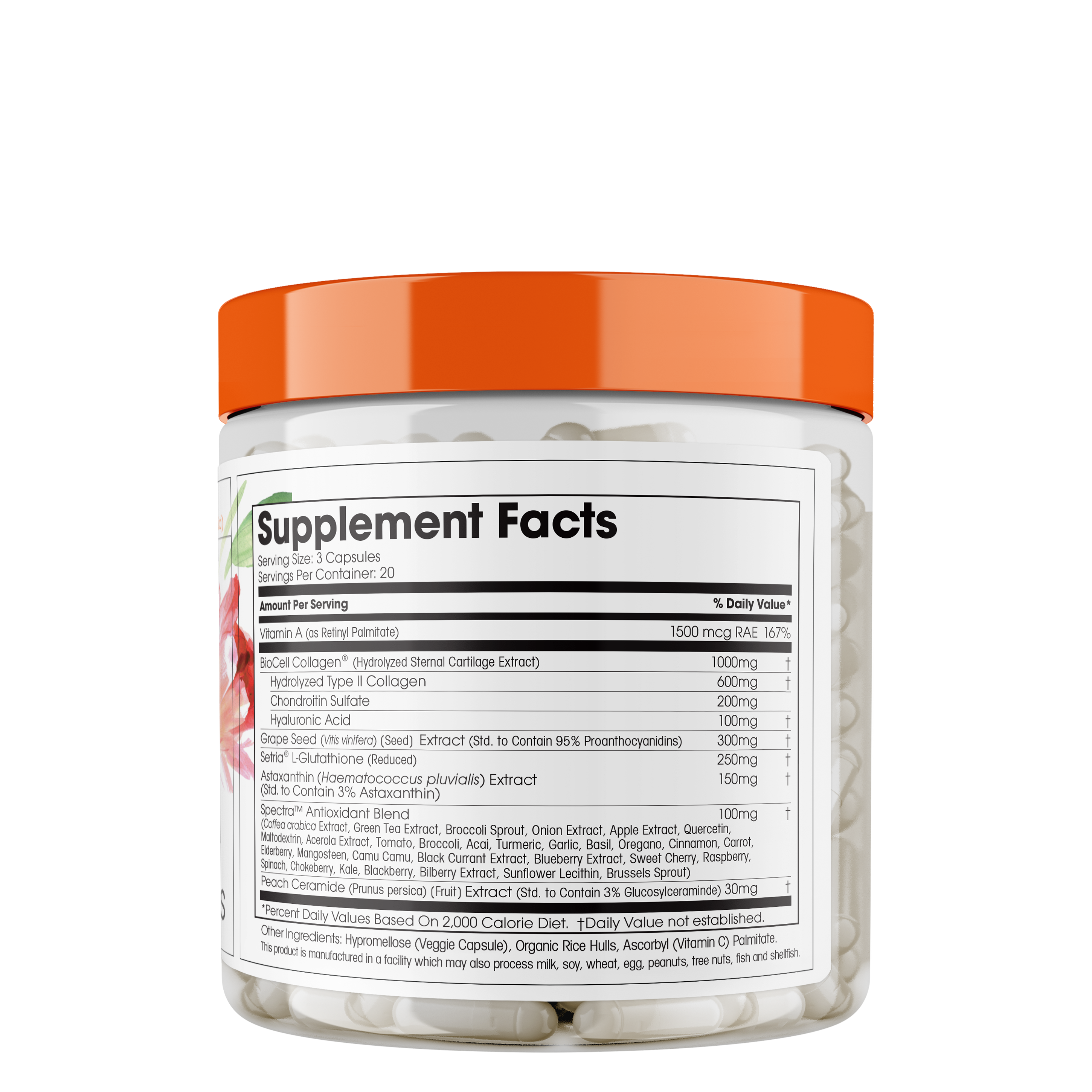 Taste is fantastic. Almost instant change in mental state. Laser focus. Clean motivation.

Tyler Bessire
New products
Genius Beauty
Be a Brainiac
GENIUS BEAUTY was created to target all areas of natural beauty and promote youthful skin, hair, and nails.* Premium ingredients BioCell Collagen® Peptides, Setria® Glutathione, Astaxanthin, and Spectra™ Antioxidants with Vitamin A highlight this multi-benefit beauty, antioxidant, immune system, and joint support supplement.* Trust in scientifically tested ingredients that can truly make a difference.*
Taste is fantastic. Almost instant change in mental state. Laser focus. Clean motivation.

Tyler Bessire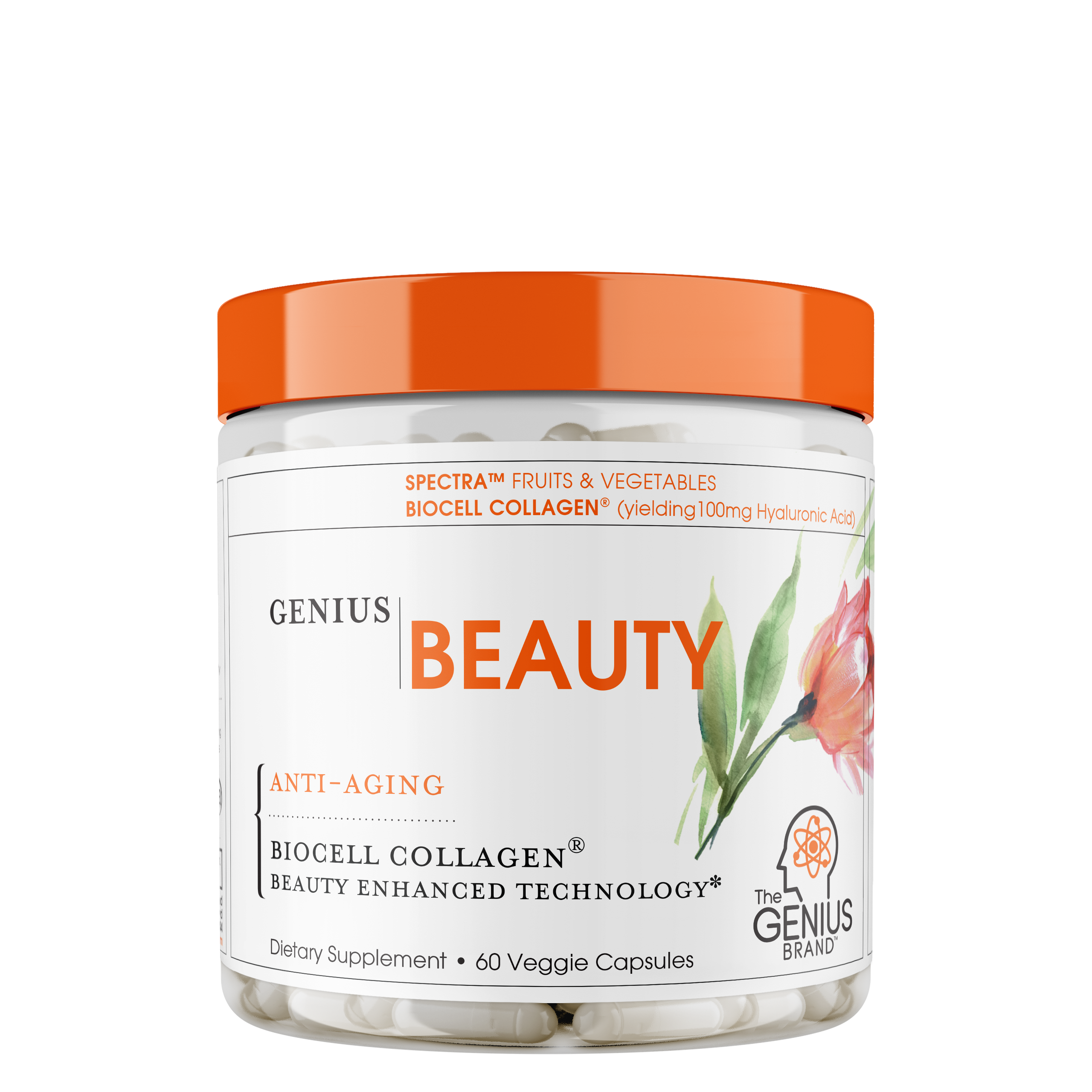 Be a Brainiac
Here's what Genius Beauty can do for you:
Grape Seed and BioCell Collagen combat the signs of aging and enhances blood circulation, keeping skin looking younger and fresher.*
Antioxidant and Anti-Inflammatory

Stunt the life-draining effects of oxidative stress and chronic inflammation with Genius Beauty's full spectrum of all-natural antioxidants and anti-inflammatory agents including Spectra, AstaPure, and Setria.*
Men want to look, move, and feel good, too. Genius Beauty helps combat the multitude of physical and mental stressors men go through daily, making them more resilient and durable.*
Genius Beauty goes beyond hair, skin, and nails with the inclusion of several research-backed ingredients that support joint health and immune function, helping you feel better inside and out!*
Genius Beauty can be used by women and men seeking to improve the quality and appearance of their skin as well as offer some added care for their joints, ligaments, and connective tissue. Consume one serving (3 capsules) daily with a meal.
For a fresher, more youthful appearance, combine one serving of Genius Beauty with one serving of Genius Estrogen Balance. For well-hydrated, supple skin, consume one serving of Genius Beauty alongside your daily serving of Genius Electrolytes. For increased muscle recovery and growth, consume one serving of Genius Beauty with one serving of Genius Sleep Aid 30 minutes prior to sleep. For comprehensive stress support and heightened mood, consume one serving of Genius Beauty with two capsules of Genius Joy upon waking.