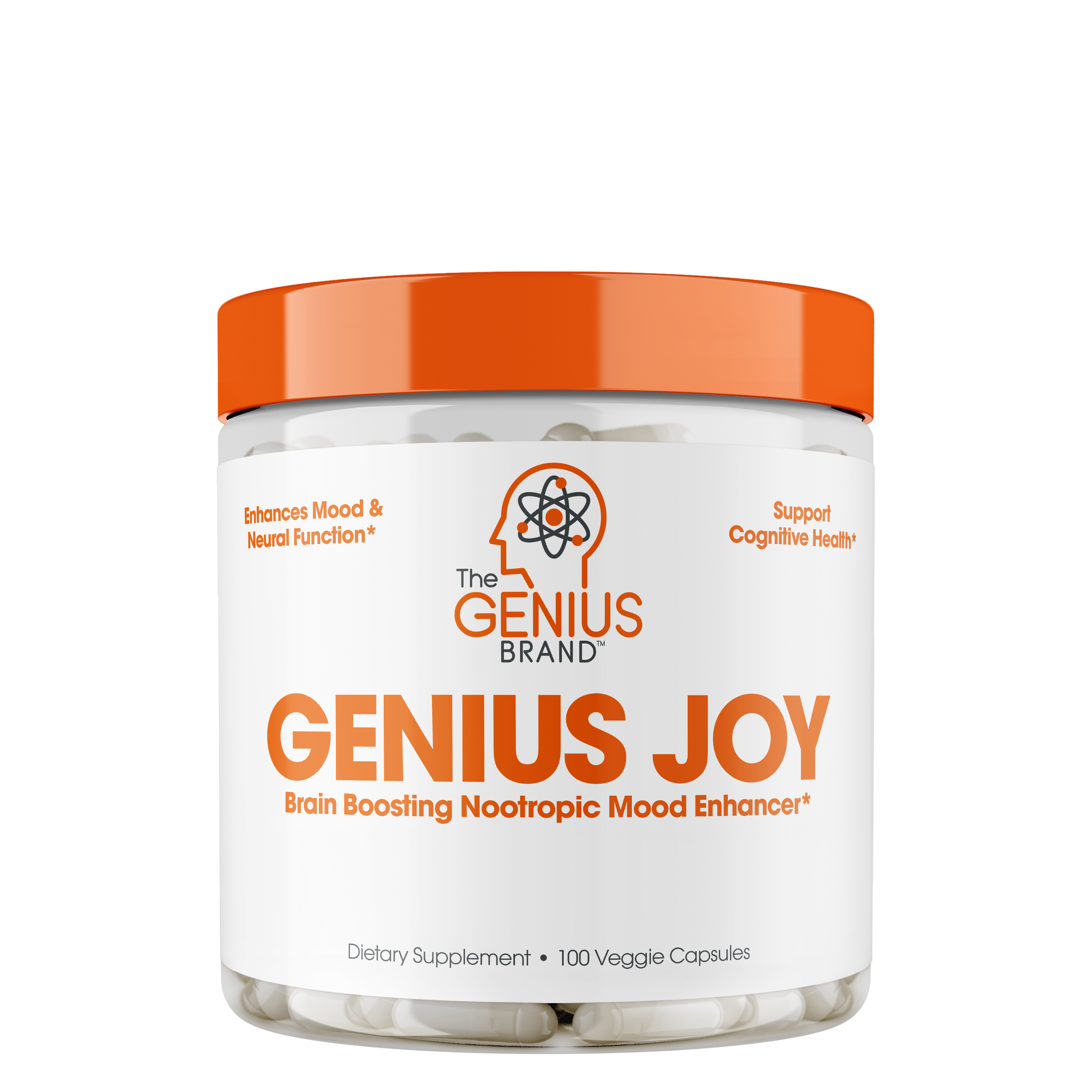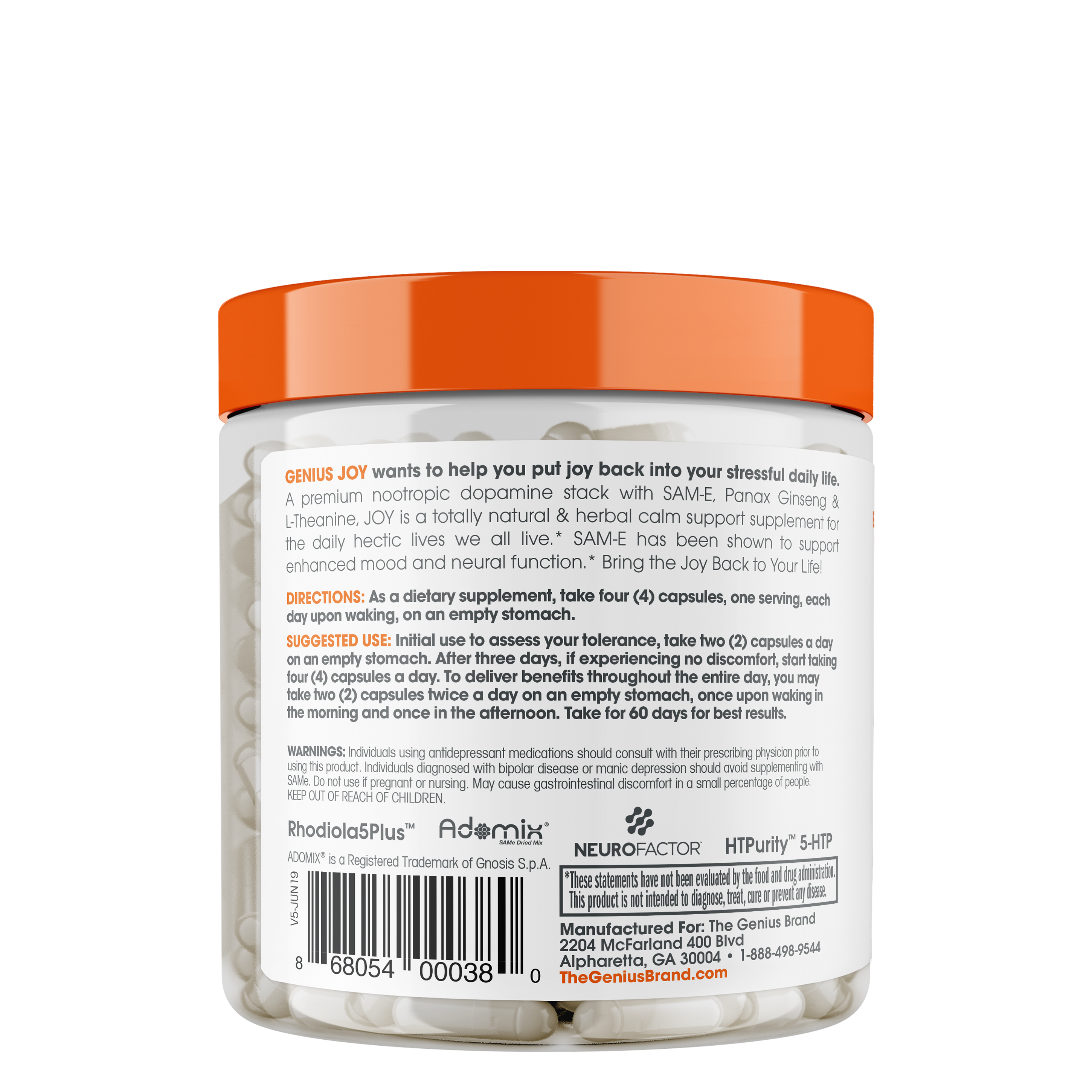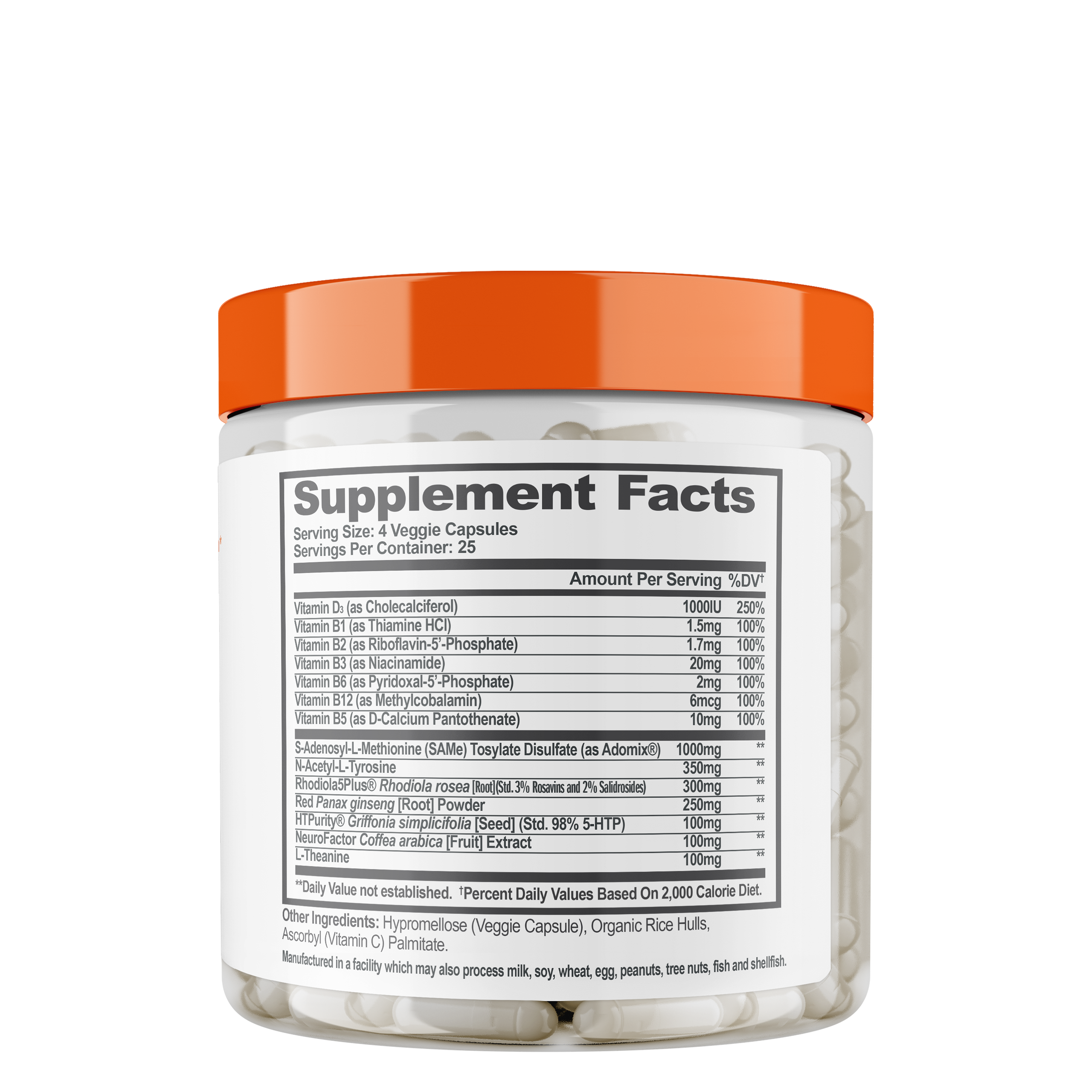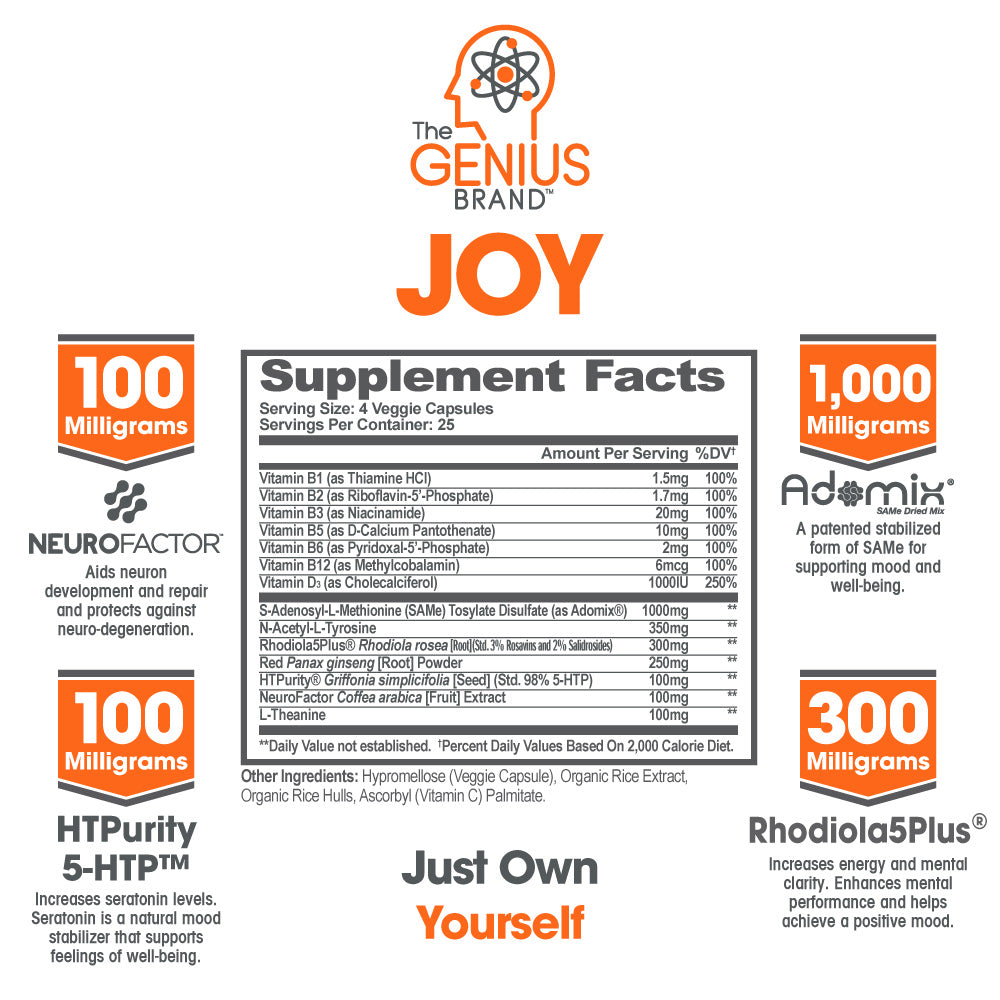 Taste is fantastic. Almost instant change in mental state. Laser focus. Clean motivation.

Tyler Bessire
Nootropics
Genius Joy
Be a Brainiac
GENIUS JOY is a safe and effective all-natural serotonin mood boosting supplement to provide temporary relief from anxiety and mood swings.* Formulated with the highest quality, researched backed natural ingredients, Genius Joy supports greater motivation, attention span, and energy to improve overall wellbeing and happiness.*
Taste is fantastic. Almost instant change in mental state. Laser focus. Clean motivation.

Tyler Bessire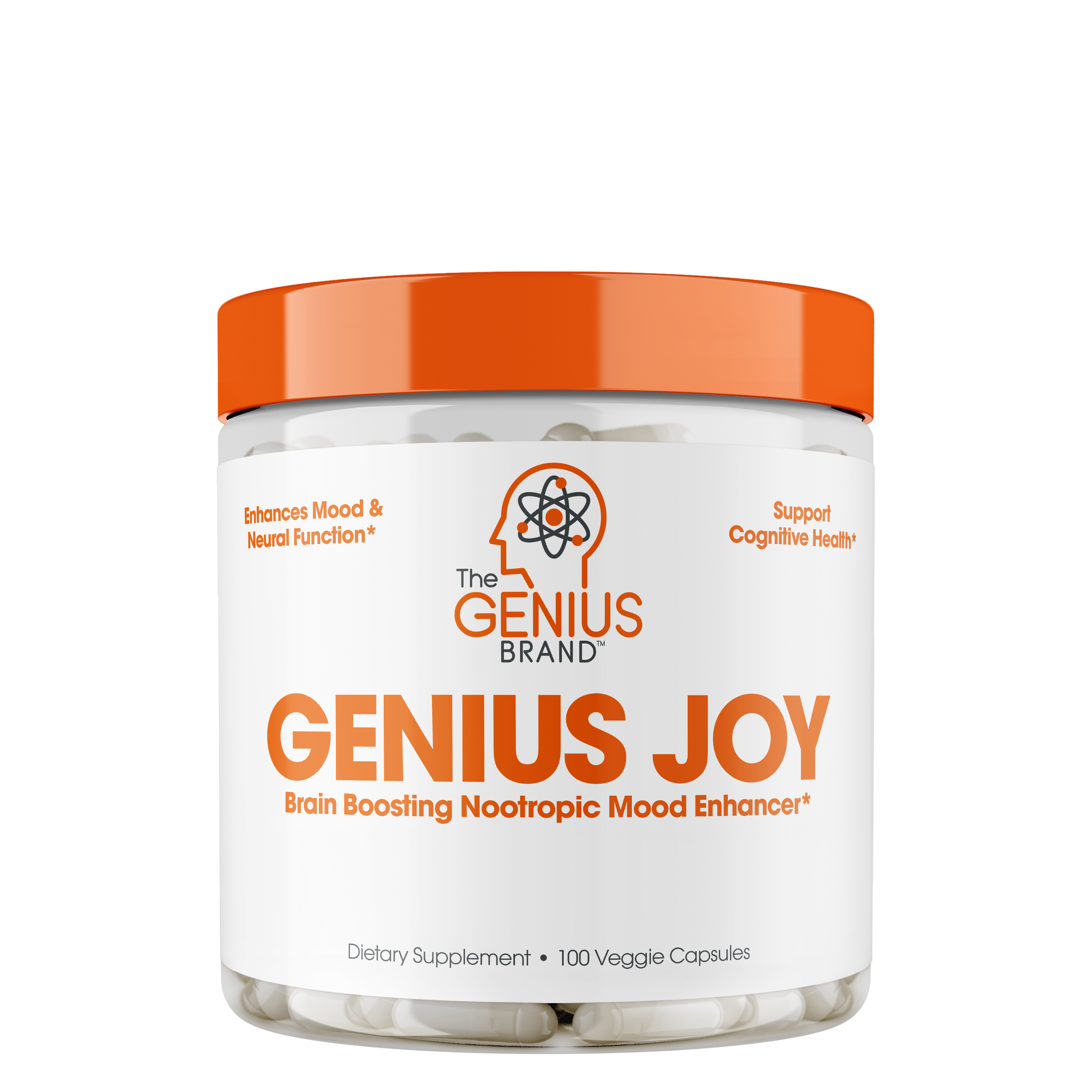 Be a Brainiac
Here's what Genius Joy can do for you:
Genius Joy's hand-picked blend of nootropics, adaptogens, and natural energy boosters support stress management and promote a natural sense of well-being.*
Chronic stress leaves the body feeling drained mentally, physically, and emotionally. Genius Joy contains a wide range of all-natural compounds that reduce cortisol and revitalize the CNS.*
Greater Memory, Focus, and Creativity

Less stress "unclogs" and soothes the mind, opening up creativity, increasing productivity, and heightening mental clarity.*
The path to a happy, stress free mind doesn't solely revolve around serotonin, but rather the delicate balance of serotonin and dopamine. Genius Joy contains ingredients that support dopamine production and maintain the proper balance of these two important neurotransmitters for anxiety relief and mood elevation.*
Slow and steady is how to proceed with Genius Joy. Due to the uniqueness of every individual's neurochemistry, we recommend beginning with one capsule taken on an empty stomach upon waking. If comfortable, a second capsule may be consumed prior to lunch. Continue this dosing protocol for three days and assess effects. If comfortable, proceed to two capsules upon waking and two capsules in the afternoon.
For Added Stress Relief and Mood Enhancement: Consume two capsules of Genius Joy with one capsule of Genius Mushrooms up to two times per day. For Increased Energy, Productivity, and Focus: Consume one serving of Genius Joy with one serving of Genius BCAA. For Cognitively Demanding Activities: Consume two capsules (½ serving) of Genius Joy with one serving of Genius Consciousness. For Smooth, Long-Lasting Energy and Mood Support: Consume one serving of Genius Caffeine with two capsules of Genius Joy upon waking.