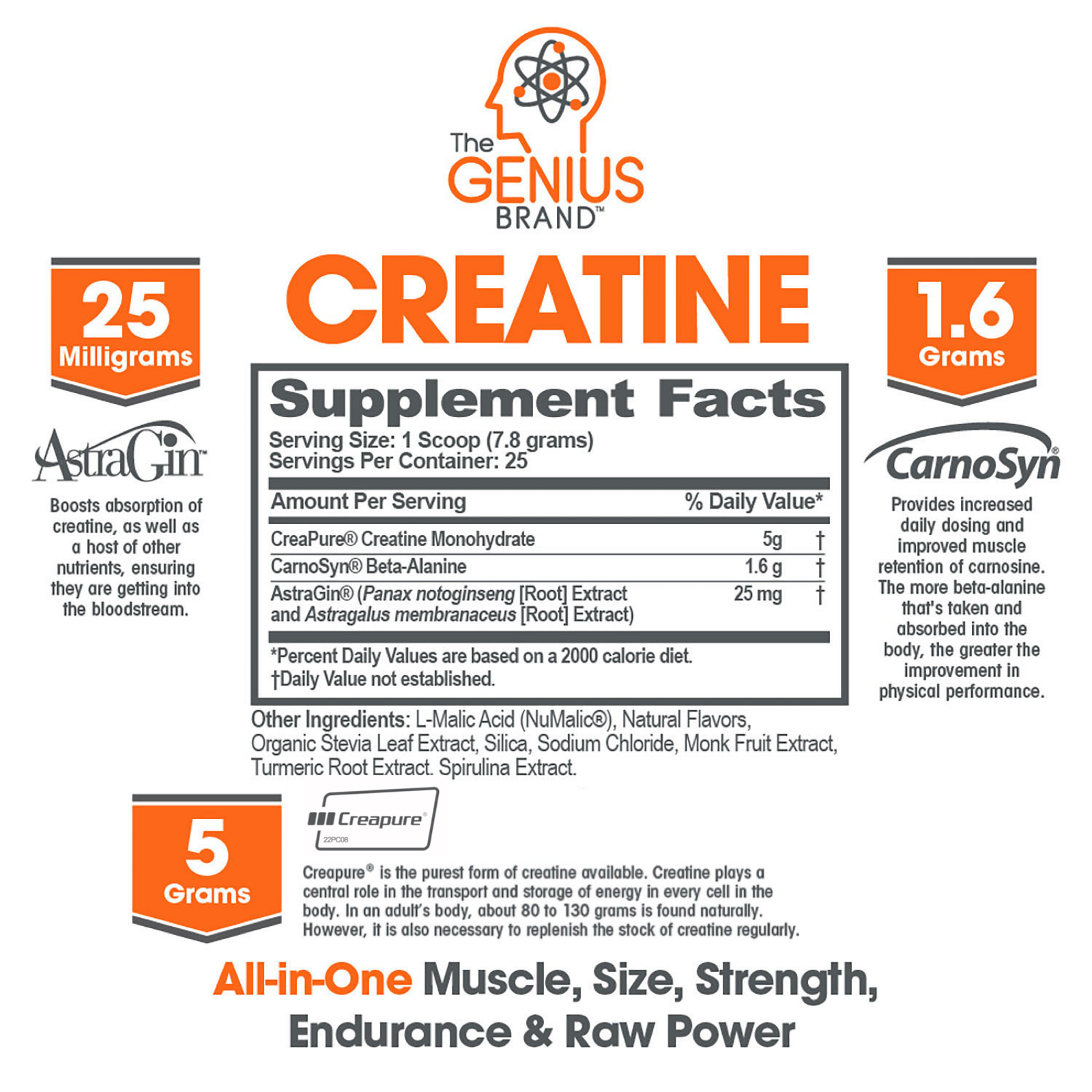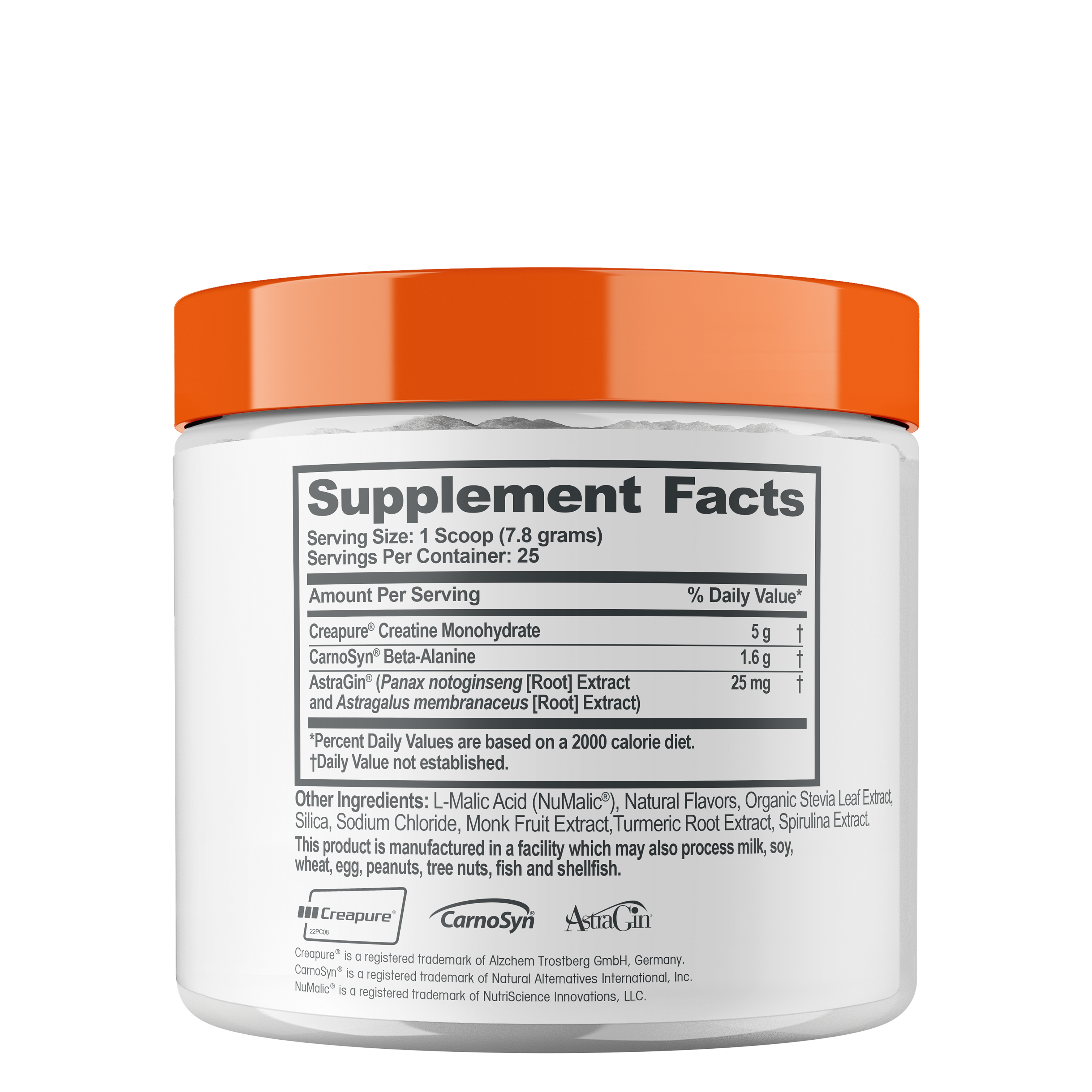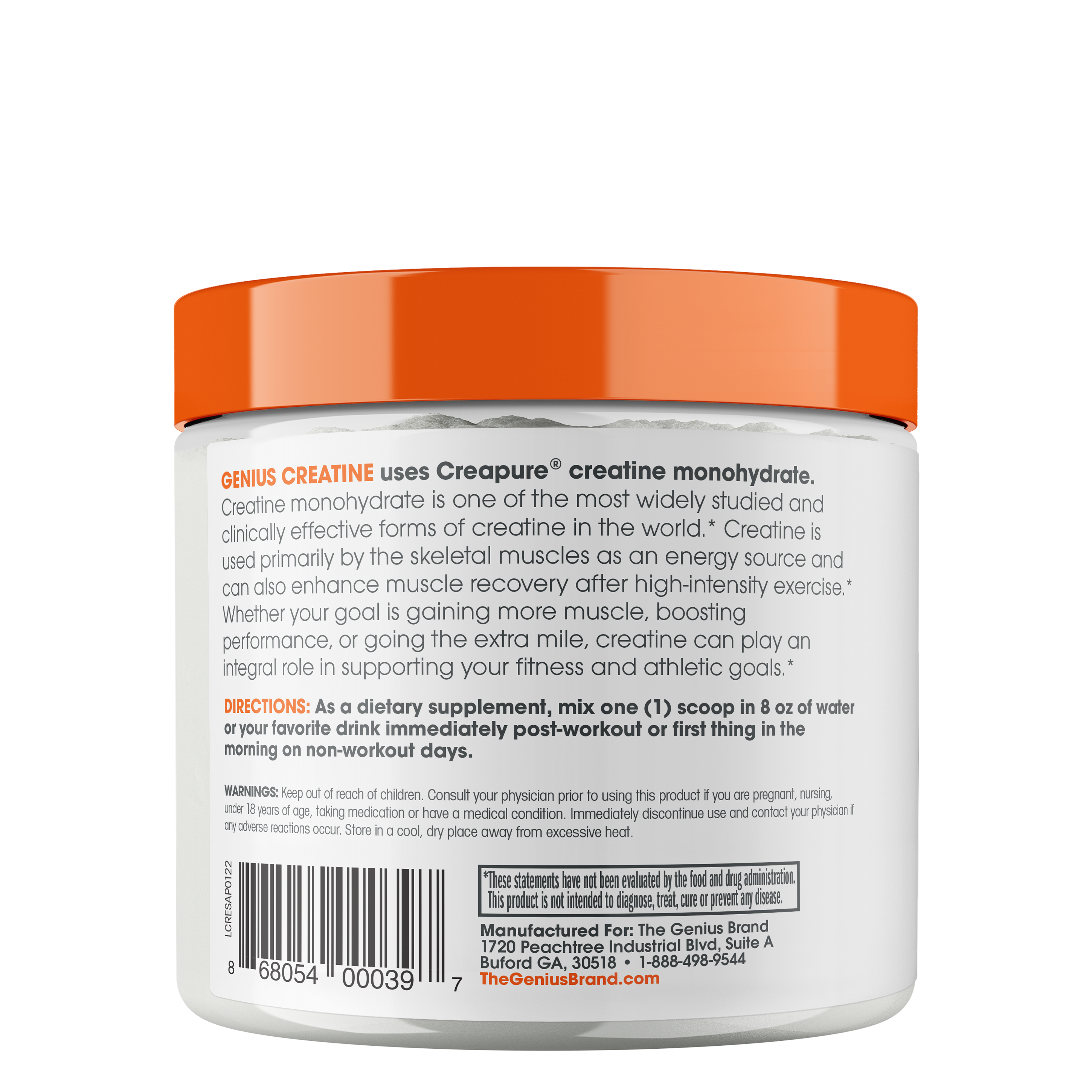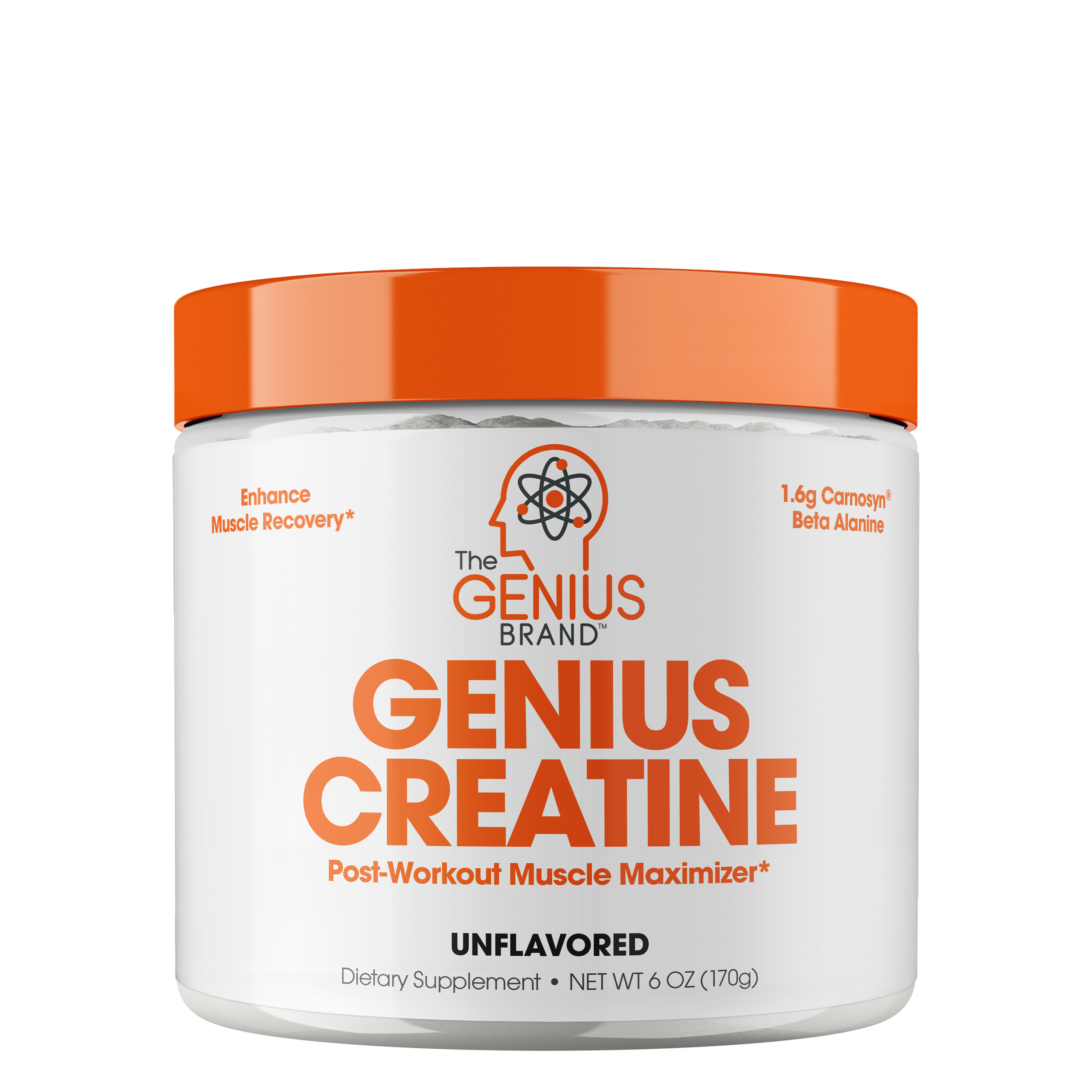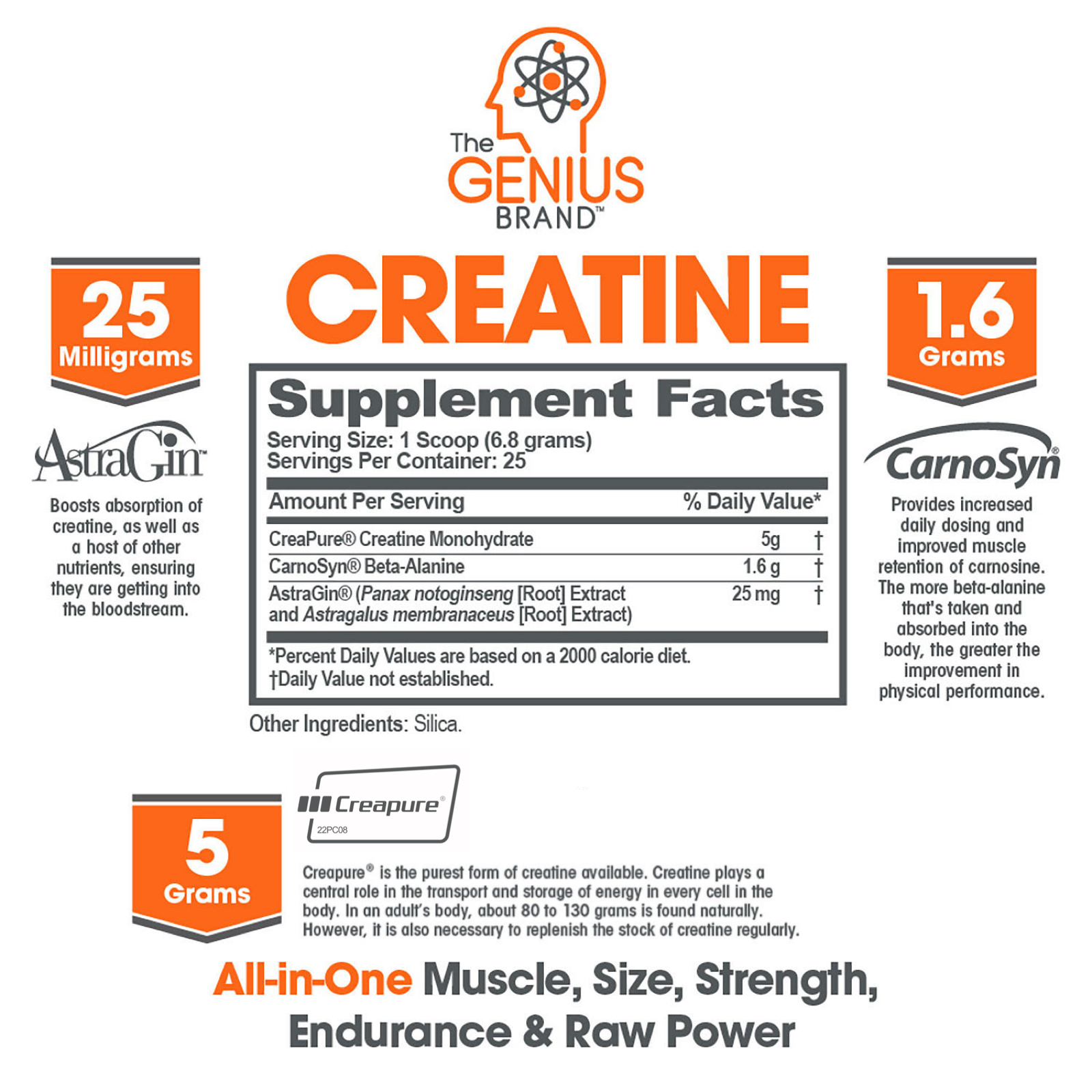 Taste is fantastic. Almost instant change in mental state. Laser focus. Clean motivation.

Tyler Bessire
Workout
Genius Creatine
Be a Brainiac
Genius Creatine acts fast to recharge every cell and build muscle faster.* We provide 5g of German Creapure® for its unparalleled quality as an elite creatine monohydrate source, combined with premium CarnoSyn® Beta-Alanine to fuel carnosine production and maximize increases in muscle function and performance during your workouts.* Superior ingredients ensure more comfort during and after training than standard creatine.*
Taste is fantastic. Almost instant change in mental state. Laser focus. Clean motivation.

Tyler Bessire
Be a Brainiac
Here's what Genius Creatine can do for you:
Superior Energy and Muscle Growth

Genius Creatine Power Matrix significantly enhances ATP production thanks to its next-gen tri-creatine complex helping you bang out more reps with heavier weights for more sets during workouts.*
Simply put, creatine is the most successful supplement of all time, proven time and again across all populations of athletes to enhance power, strength, and lean mass gains.*
Not only is creatine an effective physical performance enhancer, it also has been shown to be a valuable cognitive aid as well.* The brain uses tremendous amounts of ATP, and since creatine enhances the body's ability to rapidly regenerate ATP, it also supports heightened neurological function and processing.*
Not Just Another Creatine Supplement

Genius Creatine provides the clinically effective dose of creatine but also supplies SR CarnoSyn beta alanine and magnesium to boost endurance and support muscle recovery.*
No Creatine "Bloat" or "Itchy" Fact

Genius Creatine has been scientifically formulated to avoid the dreaded creatine bloating as well as the "itchy" feelings associated with beta alanine.*
As a dietary supplement, mix one (1) scoop in 8 oz of water or your favorite drink immediately post-workout or first thing in the morning on non-workout days.
Superior Energy and Muscle Growth

Genius Creatine Power Matrix significantly enhances ATP production thanks to its next-gen tri-creatine complex helping you bang out more reps with heavier weights for more sets during workouts.*