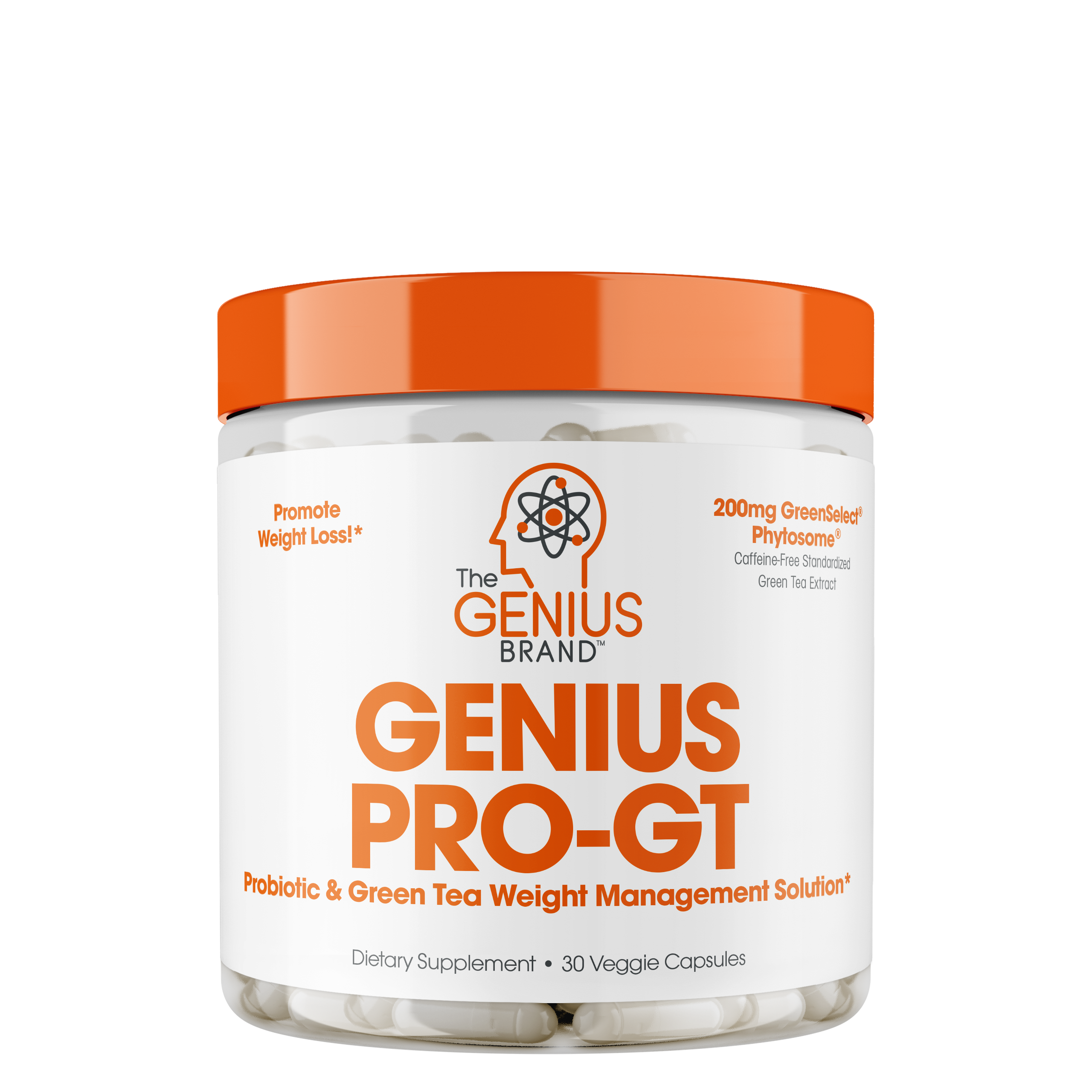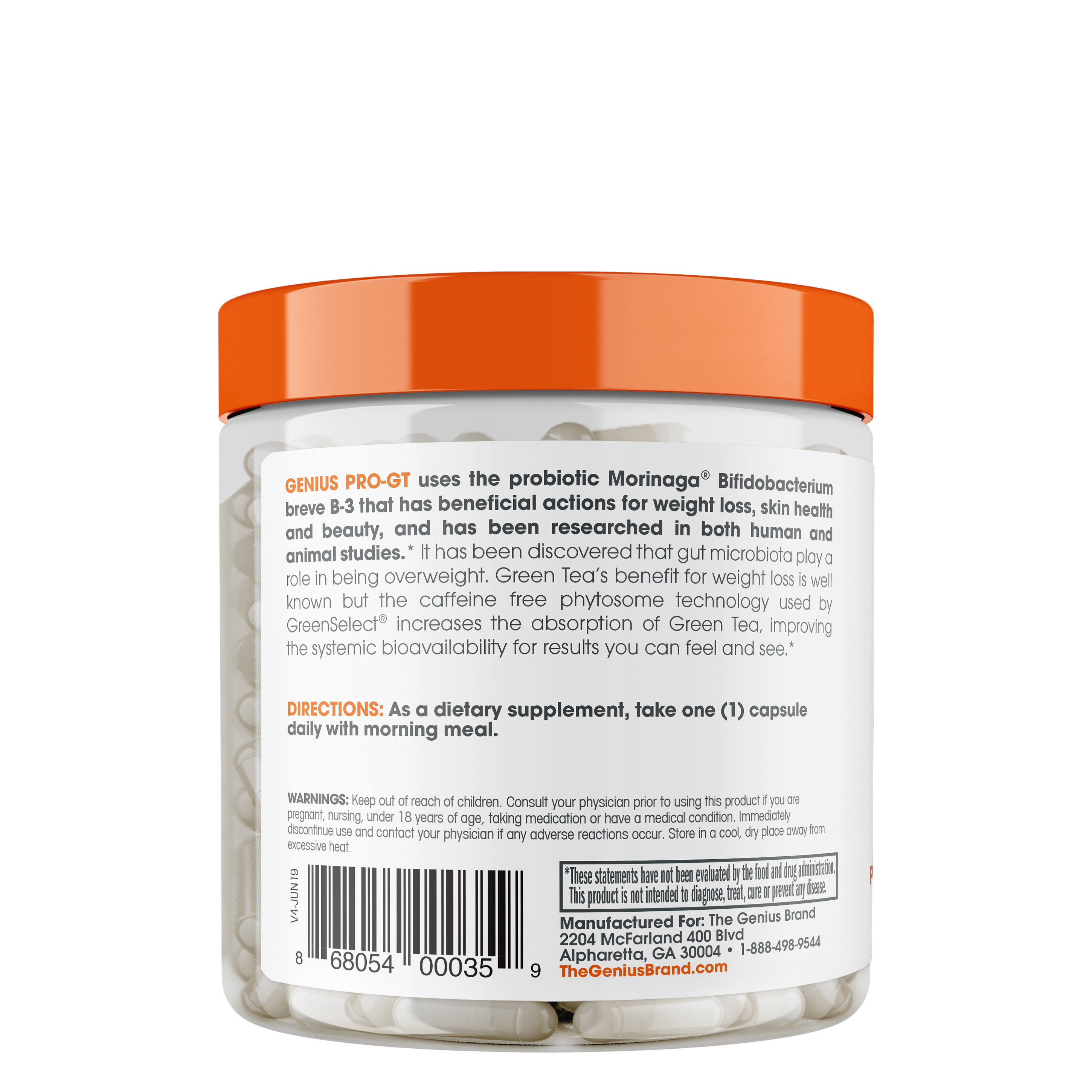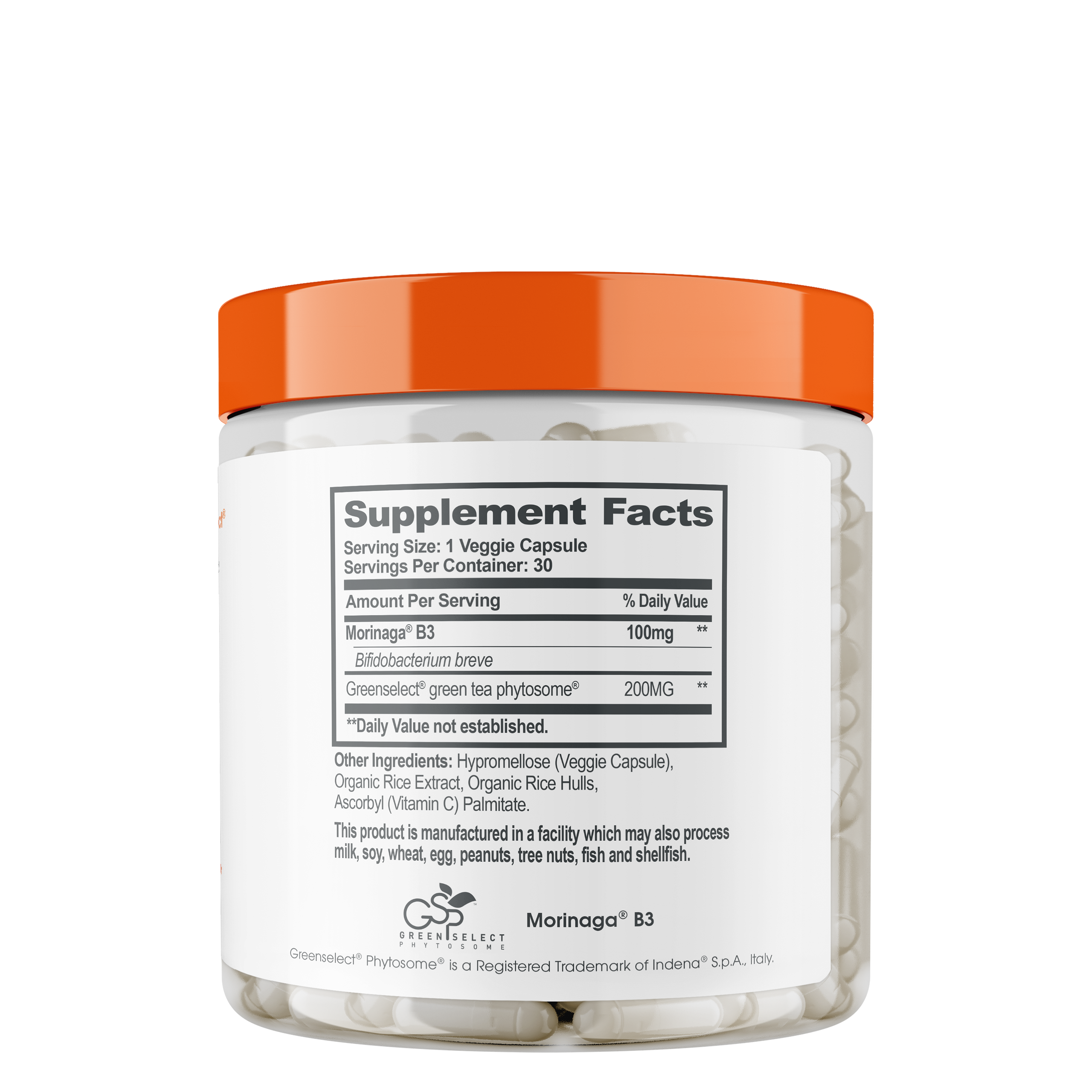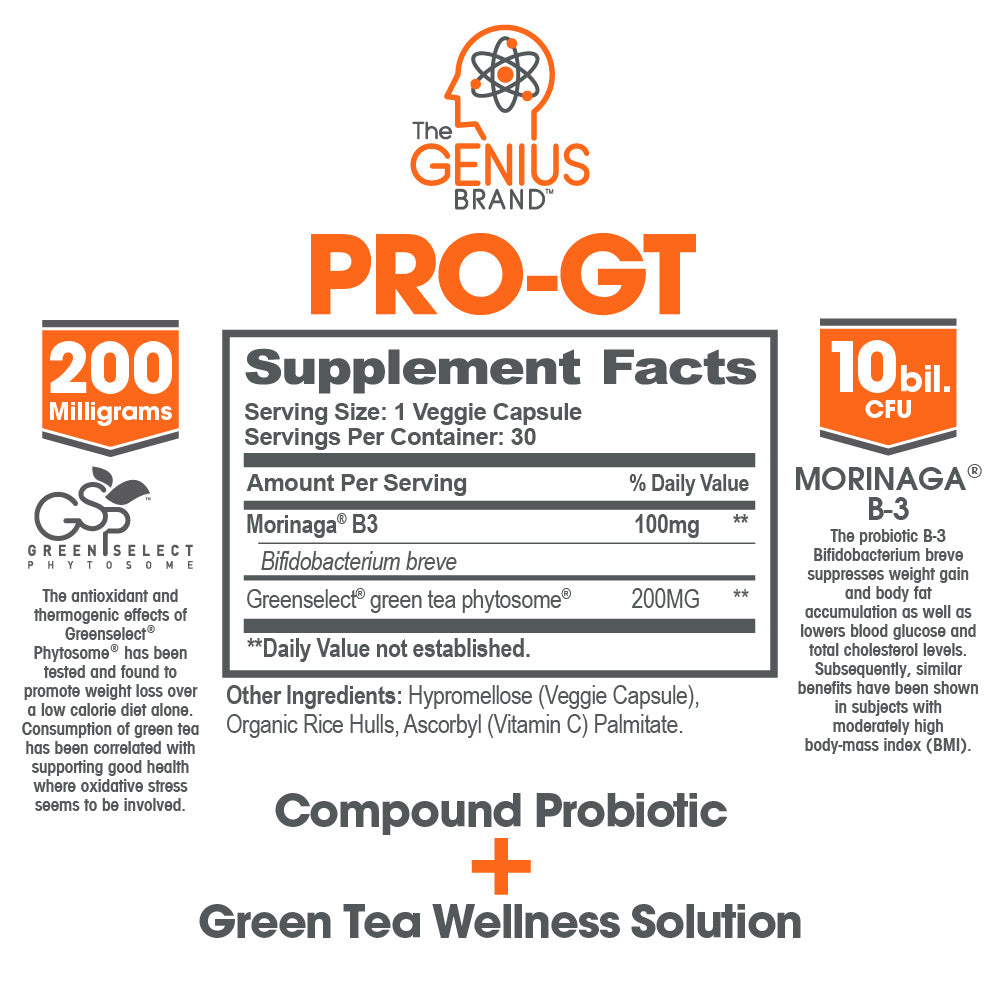 Taste is fantastic. Almost instant change in mental state. Laser focus. Clean motivation.

Tyler Bessire
Weightloss
Genius Pro-GT
Be a Brainiac
GENIUS PRO-GT supports benefits for weight loss, skin health, and beauty with the probiotic Morinaga® Bifidobacterium breve B-3, researched in both human and animal studies.* This formula includes Green Tea's weight loss benefits through the caffeine-free phytosome technology used by GreenSelect®.* By increasing the absorption of Green Tea and improving systemic bioavailability, Genius Pro-GT delivers results you can feel and see.*
Taste is fantastic. Almost instant change in mental state. Laser focus. Clean motivation.

Tyler Bessire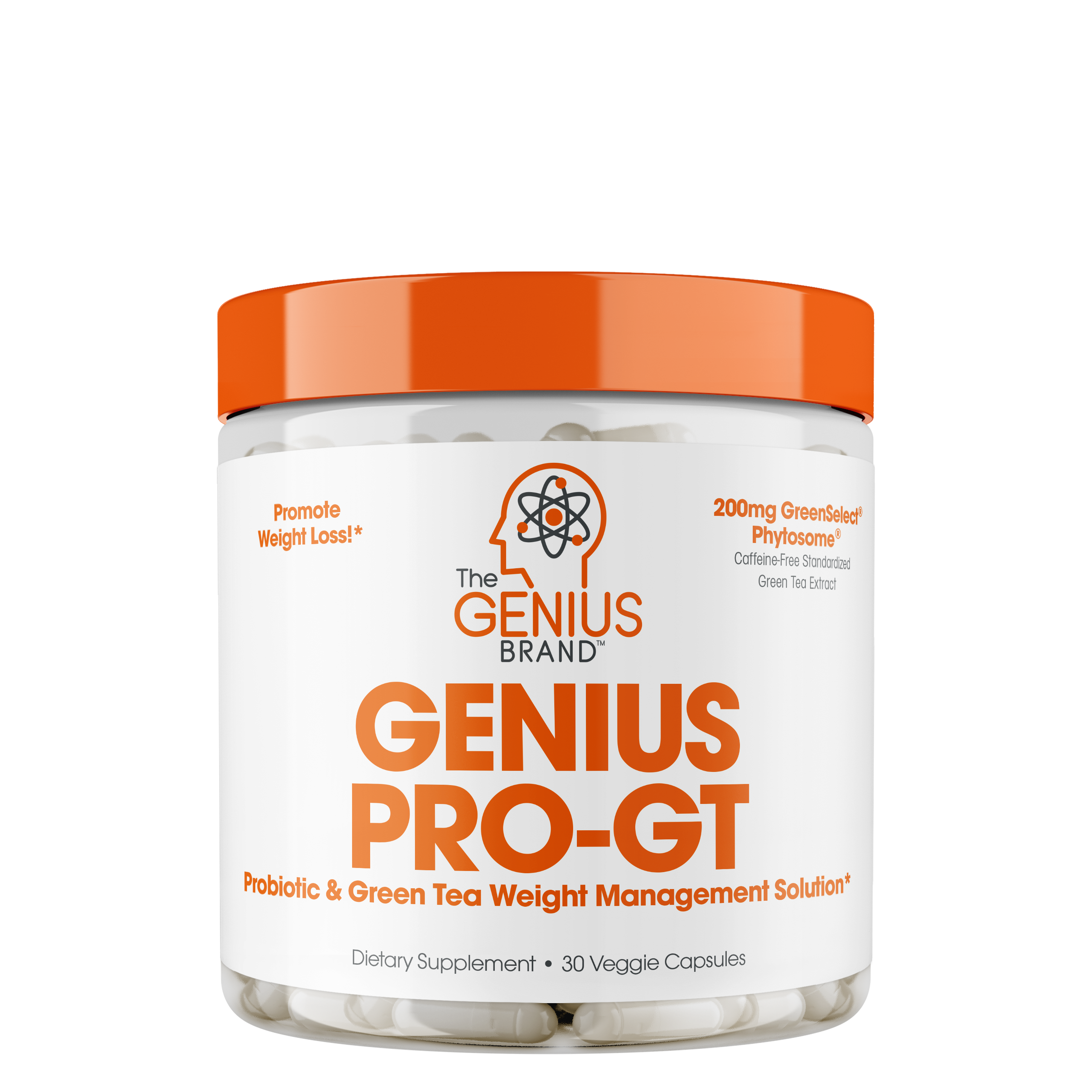 Be a Brainiac
Here's what Genius Pro-GT can do for you:
In a 12-week study, Morinaga B3 was documented to significantly suppress weight gain and body fat accumulation in humans! Researchers also noted those taking the advanced probiotic also lowered blood glucose and total cholesterol levels.*
Enhances Skin Quality & Appearance

In addition to its belly-slimming effects, Morinaga B3 was also noted to improved trans-epidermal skin hydration and epidermal thickening, yielding younger, more vibrant-looking skin.*
Green tea extract is well-documented to increase calorie burning and help weight loss, unfortunately the catechins in Green Tea (such as EGCG) have poor bioavailability. Genius Pro-GT contains a novel bioavailability enhanced form of green tea extract that utilizes the power of phytosome delivery technology*
Maintains Stable Blood Sugar Levels

Roller coaster blood sugar levels lead to intense cravings, food binges, and abandonment of your diet. The combination of GS4 Plus, TheaKalm, and KSM-66 support healthy, stable blood sugar levels, and reduce stress, helping you sidestep those temptations to cheat.*
As a dietary supplement, take one (1) capsule daily with morning meal.
For Enhanced Weight Loss and Digestive Support: Consume one serving of Genius Pro-GT alongside one serving of Genius Burn 30 minutes prior to eating. For Greater Appetite Suppression: Consume one serving of Genius Pro-GT along with one serving of Genius Caffeine and one serving of Genius Diet Pills. For Increased Nutrient Absorption following training: Consume one serving of Genius Pro-GT with one serving of Genius Protein immediately after exercise.