Defy Age with Genius Beauty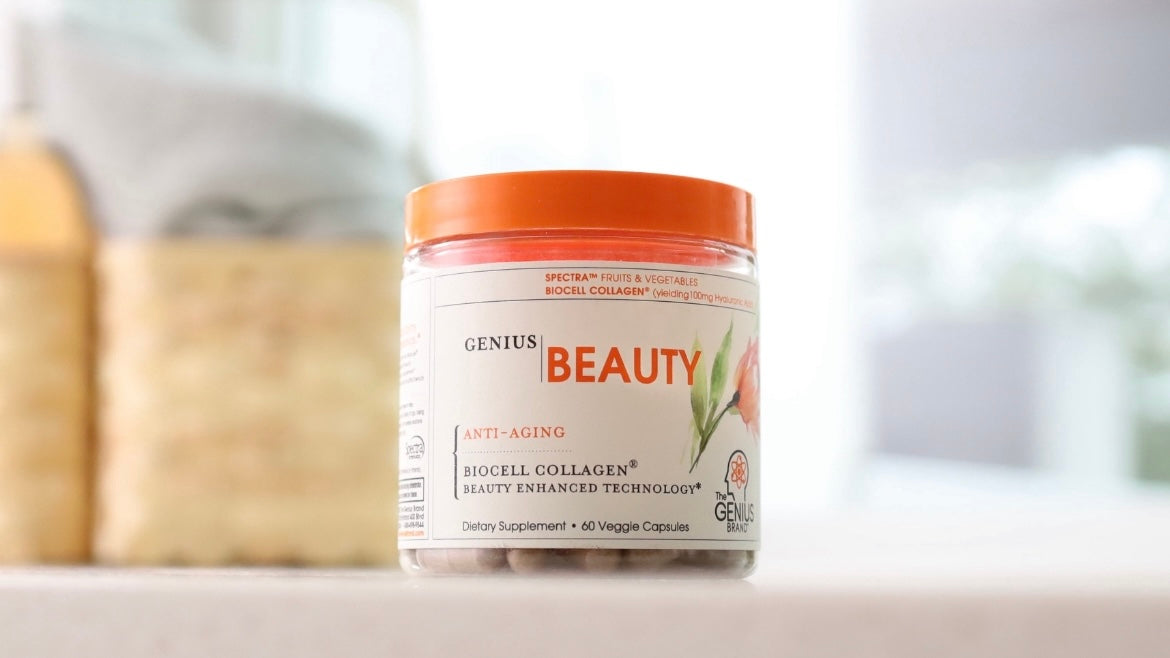 SALE! Use code "BEAUTY15" at checkout to get 15% off Genius Beauty. The promo ends August 5th, 2022.
We all want to look younger and more vibrant. Genius Beauty provides high-quality ingredients to support multiple aspects of your beauty and well-being with ingredients that provide antioxidants for inflammation and oxidative stress, promote healthy hair, skin, and nails, and promote wellness from within.*
We designed Genius Beauty to provide a multi-benefit beauty and wellness supplement.  An easy single-stop product backed by some of the best and most reputable ingredients available so that you never need to worry about what you are putting into your body. It's important to us that Genius Beauty helps you look AND feel great!*
Ingredients for Ageless Beauty
Grape seed extract is created from dried and crushed grape seeds. The seeds are rich in antioxidants and can support the body in several ways. Grape seed extract can help lower blood pressure, improve blood flow, reduce LDL cholesterol oxidation, and improve collagen synthesis and bone strength.*


Setria® Glutathione is a highly absorbable tripeptide included in Genius Beauty to help maintain the body's natural reserves of L-Glutathione, which can be drained by poor diet and aging. L-Glutathione is a molecule that helps the body by protecting cells from oxidative stress and damage.*

Oxidative stress impacts many parts of the body internally, but its effects also manifest outwardly in our skin, hair, and nails, which can lead to a decline in skin and hair quality, hair loss, and coarse nails over time.*


Spectra™ is a plant-based, scientifically validated blend of 29 fruits, vegetables, and herbs shown to inhibit free radical production and optimize cellular metabolic activity. Free radicals are the molecules that cause oxidative stress when your body's antioxidants are not plentiful enough to balance them.*


BioCell Collagen® is a clinically studied dietary supplement ingredient composed of hydrolyzed collagen type II peptides, chondroitin sulfate, and hyaluronic acid. Among its benefits, this unique ingredient can promote joint comfort and mobility, promote cartilage health, support reductions in facial lines and wrinkles, improve skin elasticity, and reduce skin dryness.*


Ceramides are a class of fatty acids found naturally in skin cells, comprising about half of the epidermis. They create a barrier that helps to lock moisture into the skin to prevent dryness and irritation. Ceramides are gradually lost over time through aging, dietary changes, and environmental factors. Peaches naturally contain higher amounts of ceramides and serve as our source of ceramides in Genius Beauty.*


Astaxanthin is a carotenoid pigment that occurs in microalgae, yeast, and certain sea creatures such as trout and salmon. It is an antioxidant that can support blood flow and lower oxidative stress.*
The Genius Brand Anti-Aging Series
With Genius Beauty you can feel and see the difference. Wellness and beauty start within. We've provided an array of reputable and clinically studied ingredients to give your body an extra layer of support that works from the inside out. When you support your inner health, that vibrance radiates to the surface.*

Our anti-aging series provides our three best supplements for living your best life: Genius Beauty, Genius Eternal, and Genius Glow Potion. As with all Genius Brand products each is designed to be a complete product that can stand alone while also complementing its fellow anti-aging supplements when taken together.*

Never believe that growing older means an inevitable decline in how you look and feel. Age can be defied, and it starts when you take charge of your health, put your body first, and pursue your best self.

Keep unlocking your Genius.
 
These statements have not been evaluated by the Food and Drug Administration. This product is not intended to diagnose, treat, cure, or prevent any disease.

About The GENIUS Brand
The Genius Brand is a product of our own industry realization. Genius...